Flow Fitness Training Programs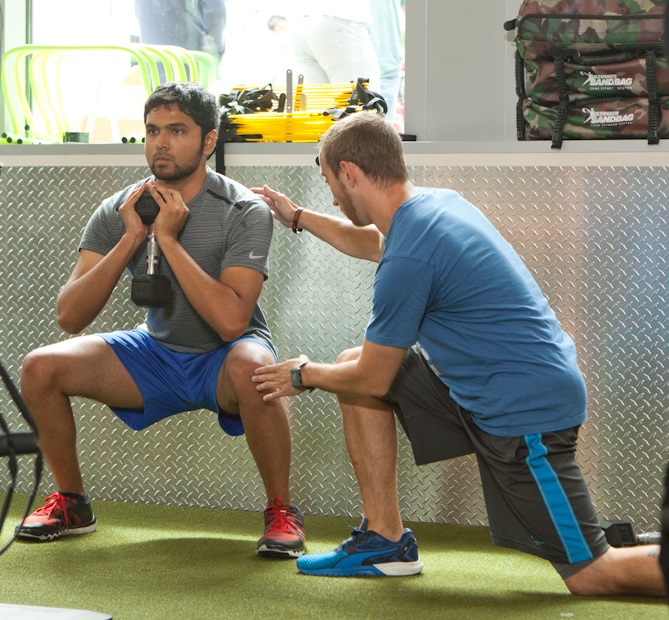 Training Camp
With an emphasis on high-level coaching, Training Camp offers 3 different programs that will meet your needs and budget. These programs have been created by our Training Camp Program Directors, who collectively have over 20 years' experience in the design and implementation of health, fitness, and performance training solutions for a wide range of human beings.
Because we are focused on results and strive to make YOU better, Training Plans change every 4 -Weeks as we have found consistency and repetition to be the ultimate game changer in improving fitness. In Week 1 you will "learn the training plan", in Week 2 you will "know the training plan!", in Week 3 you will "own the training plan!" and in Week 4 you will "crush the training plan!" Our Coaches will not only hold you accountable to your personal goals, but also hold you accountable to the goals of each week!
To ensure that you are successful within our programs, coaches will make appropriate exercise modifications that take into consideration each person's level of fitness and unique physical characteristics.
Team Conditioning
This program is designed to increase conditioning and muscular endurance using multi-joint and multi-plane functional movements. After meeting and greeting your Training Camp Teammates, our coaches will lead and push each team member through a series of timed training 'Blocks' using Kettlebells, Dumbbells, TRX-Trainers, Slam Balls, Ropes, Sandbags, and our High Intensity Interval Training equipment for a complete metabolic workout. This program is designed to be an excellent complement to your Strength Training sessions and is included in your membership.
Small Group Strength
Be pushed beyond your comfort zone with training protocols that have stood the test of time. You'll be highly coached on various compound movements including the squat, deadlift, push press, and kettle bell swing to build a solid foundation under which all other training relies upon. Appropriately programmed strength training has been proven to be the number one method for decreasing/overcoming injuries, improving muscle development, raising metabolism, and boosting self-confidence. Each workout ends with a short but intense metabolic conditioning block to ramp up the heart rate and burn extra calories. With a limit of up to 4 participants, sessions size is small, individual attention is high, and the focus is always on you.
1-on-1 Training
Though we strongly promote and recommend our Team and Small Group Training programs as the best and most cost-effective way to reach your potential, 1-on-1 coaching is available for those with scheduling conflicts and/or unique training needs that require individualized attention. Your plan will be designed based on the 5 components of Training Camp but with varying emphasis on each component based on your unique physical characteristics and goals.
Components of Training Camp
Whether it is our Team Conditioning, Small Group Strength, or our 1-on-1 Strength and Conditioning Program, we integrate 5 components into each Training Plan of the Day to ensure the best results in the shortest amount of time.
Physical Autonomy- Humans are designed to move freely with very few restrictions. Unfortunately, the average human spends more time sitting than exploring the true limits of their body. Through focused mobility, range of motion, and agility training you will regain the physical freedom lost due to inactivity.
Functional Exercises- We develop our programs around the basic components of human movement which consist of Squatting, Pushing, Pulling, Hinging, Carrying, Crawling, Running, and Throwing. Our multi-joint/multi-plane approach to training ensures that what you do inside the gym also translates outside the gym.
Strength- Strength is essential in many daily activities including sports and recreation and is the foundation of our programs. With a heavy focus on developing a stronger body, our programs utilize various resistance training methods and equipment that will decrease the occurrence of injury, improve bone health, add lean muscle, and increase your overall metabolism.
Core Performance – Core training isn't about sit-ups and side bends, but rather utilizing the deep lying musculature of the glutes, hips, abdominals, and upper back in a sequence that provides stability and protection from injury. The core is also integral in generating and absorbing force in movements such as running, jumping, and throwing. Through our Training Plan, you will develop your core both as a stabilizer and as a primary mover to ensure proper function and safety in a multitude of activities.
Metabolic Conditioning- Conditioning focuses on increasing work capacity and muscular endurance through a combination of high volume training and interval training. The calorie burning effects of appropriately programmed conditioning have been shown to last several hours following the training session in process called EPOC (Excess Post-Exercise Oxygen Consumption). Long term, conditioning improves cardiovascular health, increased metabolism, and a reduction in body fat.
Strength Camp – Effective 1/8/18
Members are required to reserve a spot in camp through the online member portal, to ensure there is adequate space and equipment for all attendees. Visit reservation policies here.
| | Mon | Tue | Wed | Thu | Fri | Sat | Sun |
| --- | --- | --- | --- | --- | --- | --- | --- |
| 6:00 am | | | | | | | |
| 6:10 am | | | | | | | |
| 7:00 am | | | | | | | |
| 9:30 am | | | | | | | |
| 11:30 am | | | | | | | |
| 12:30 pm | | | | | | | |
| 4:00 pm | | | | | | | |
| 4:30 pm | | | | | | | |
| 5:15 pm | | | | | | | |
| 5:30 pm | | | | | | | |
| 6:30 pm | | | | | | | |