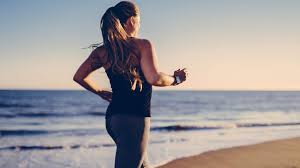 It's already April and the days are getting longer. Before you know it, summer will be here. It's easy to start feeling the pressure as your annual vacations are getting closer and you feel like you're running out of time.  If you're unsure where to start, we've created a list of 4 simple ways to get your body ready for summer.
Incorporate Strength Training
This might seem like a no-brainer but adding a strength program to your weekly routine is crucial in getting into summer shape. Strength training is the best way to burn fat and build muscle to show off during the summer months. It boosts your metabolism, strengthens your heart, increases bone density, and increases cognitive function. So, adding strength training to your routine will help you think and function better – what a deal! Start by taking a Strength Camp class, Team Conditioning class, or Body Pump class. Having a coach guide you will help ensure you're using correct form while pushing you in a team environment.
Nutrition
Thinking about what you eat is another crucial element to get yourself into summer shape. Try to eat a healthy balance of protein, carbohydrates, and fat every day and go a little easier on the alcoholic beverages and loaded coffee drinks. If you're wanting to lean out a little, you will need to be in a caloric deficit to ensure fat loss. Using an online macro calculator or a fitness app is a great place to start to calculate your daily calorie needs.
High Intensity Interval Training (HIIT)
Adding HIIT to your weekly training will be a huge help when trying to get in shape for summer. HIIT workouts are a quick and easy way to challenge your cardiovascular system while boosting your metabolism and increasing your overall level of fitness. Not sure where to start? At the end of a training session, try adding this circuit: 20 seconds all out sprint, 20 seconds of rest on an assault bike or treadmill. Using short bursts of energy with a short rest period will get your heart rate soaring and will peak your metabolism for hours afterwards. Use this in place of your cardio days or add to the end of a strength training session – all you need is 10-15 minutes to get great results.
Change Your Commute
As the weather is beginning to get nicer, another great tip is to think about how you're getting around the city. Do you drive to work everyday? Maybe you can bike to work or walk to the bus. Take the stairs instead of the elevator at the office. Small changes like these will increase your daily activity level which will in turn help keep you a little more fit just in time for summer.
It's amazing to think that summer is just around the corner but adding these four tips into your routine will help you get into summer shape in no time. Set goals and reminders for yourself to get up and moving or to drink more water. Small changes will add up over time, so start some of these today!