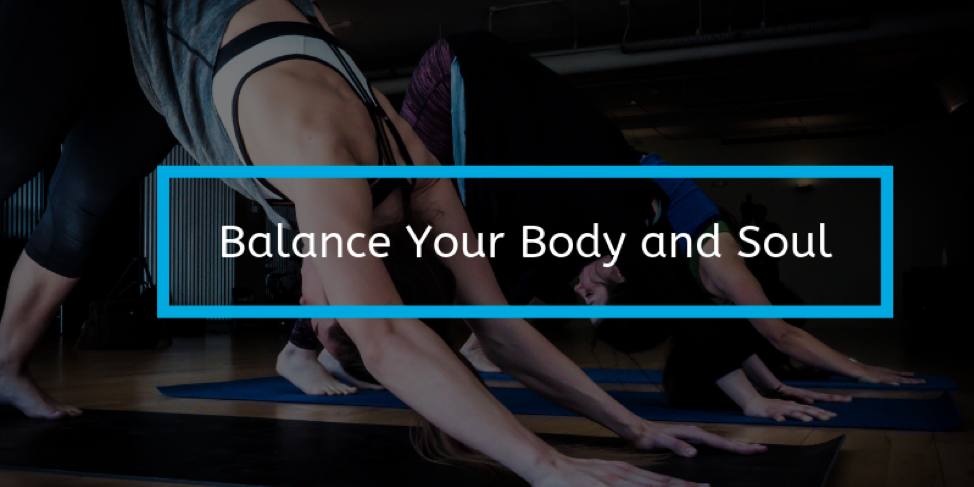 Yoga is a perfect way to round out your fitness routine. Our program is designed to help everyday athletes like you achieve your goals. Complement your existing training by increasing flexibility and mobility; building core strength, balance and stability; improving breathing; and connecting your mind and body. With an array of tempos, styles and expertly trained teachers, we'll help you find your Flow!
Whether you're new to yoga, a seasoned practitioner or somewhere in between, our Yoga classes are right for you. Here's what we offer:
YOGA FLOW
Master the basics with this Vinyasa class that teaches you to synchronize your breath with your movement. It can be easily modified for any level, building strength, flexibility and body awareness. Start slowly with deep breathing, then progress to more challenging postures, building heat from the inside out. Class ends with restorative breathing and relaxation, so you'll leave feeling centered.
POWER FLOW
Energize yourself with a fun, athletic Vinyasa flow set to upbeat music. If you still want to get a workout in, but leave with a fresh and focused mind, this is the class for you: It will keep you moving and make you sweat while clearing your mind for the day ahead. Come prepared to move your body and have some fun.
RELEASE AND RESTORE
Recover from workouts faster with this class that's perfect for athletes, designed to relieve muscle soreness, reduce tension, improve coordination and increase joint range of motion. Learn self-massage techniques by rolling on massage balls (Yoga Tune-Up therapy balls) and experience deep relaxation.
SOULFUL FLOW
This Yoga Flow class incorporates music and an inspiring message to help energize the body and renew the spirit. It combines meditation, Vinyasa flow, deep stretches and breathwork to spark connection to your authentic self. All souls welcome.
RESTORATIVE YOGA
In this class, the movements are slow, emphasizing deep relaxation. Each yoga pose is held for 3-5 minutes — many using props to enhance the relaxing effect and leaving you peaceful and centered. This is a great class to help melt away the stress of everyday life; improve sleep; ease chronic pain; recover from an intense cardio or strength training workout; or take it easy while still moving.
DEEP STRETCH / YIN YOGA
Allow the tension in your muscles as well as your mind to soften as you take the time to slow down. Deep stretch yoga is a slow-paced practice that's perfect for the advanced yogi as well as the beginner. The longer holds allow you to really sink in and explore the depth and significance of each pose. Using breath as a bridge between mind and body, you'll ease into a meditative state where you can feel the benefits. Deep Stretch yoga enhances flexibility and mobility; lowers stress; calms the mind; and rejuvenates and energizes you for whatever the week may bring!