Indoor Cycling Class Near Belltown – Beginner to Advanced Spinning Classes
Flow Fitness South Lake Union
Beautiful, immaculate facilities conveniently located in the heart of South Lake Union
Premium locker room amenities
Complimentary towel service and wi-fi
Dry sauna rooms
Access to innovative, community-based health and fitness events
Complimentary parking in the mornings, evenings and weekends
A full complement of cardio and strength equipment
Personal training in private and small-group settings
A comprehensive group exercise schedule taught by the area's best instructors
Join a Flow Fitness Cycling Class Near Belltown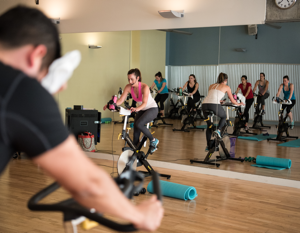 If bike riding is one of your favorite activities but inclement weather makes it impossible to hit the road, a great alternative is signing up for a cycling class at Flow Fitness near Belltown.
In our indoor spinning classes, you will see some of the best indoor cycles available on the market today. Schwinn Carbon Blue cycles with MPower Echelon consoles that mean performance tracking couldn't be easier!
Our cycling class instructors strive to push you up to your limits while encouraging you to keep returning for more. With a great combination of fun, energetic surroundings, and high-intensity training, you may be surprised to see the amazing results of our indoor cycling program!
Indoor Cycling Benefits the Mind and Body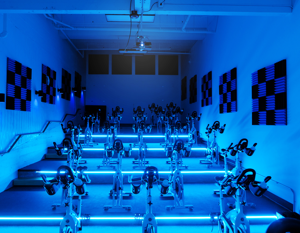 Building muscle strength and increasing endurance is one of the top benefits of an indoor cycling class. A variety of muscles are affected because the workout can simulate different terrains that cause you to lift or lower during the ride. Although the primary focus is the gluts and your legs, the core muscles and your arms are engaged as well.
If Belltown residents are looking for an aerobic exercise that gets your heart going, indoor cycling fits the bill! It not only improves your heart health, but it increases your cardio endurance too. Cycling is also a low-impact workout making it a great option for those that are now recovering from certain orthopedic injuries.
Those are certainly the main physical benefits of an indoor cycling class, but there's actually more!
Strengthens tendons and ligaments surrounding muscles
The hip, knees and ankle joints are not jarred
400 to 600 calories burned in one-hour spinning classes
The last, if not the best benefit of an indoor cycling class, is the release of endorphins. Belltown members will not only feel better physically, but there's a great chance you feel happier and less stressed out!
A Variety of Spinning Classes Available to Belltown Residents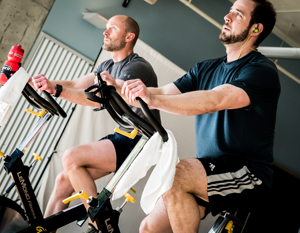 Our spinning classes in the Belltown area all have cycles that allow the rider to control intensity. This ability means that every ride can be catered to the level of the rider – from beginners to advanced riders.
Spinning classes can be a stand-alone class or complement your current fitness regime. Our classes include:
Cycle – high-intensity interval training
Cycle Reset – easy to hard intensity
Music Video Cycle – music videos spinning class
Cycle Fusion – indoor cycling along with resistance training
Cycle + Core – spinning and core-specific workout
We invite you to schedule a tour of Flow Fitness center near Belltown. Of course, if you have questions about any of the indoor cycling classes, just give us a call at 206-621-7246.