Indoor Cycling Class Near Capitol Hill – Beginner to Advanced Spinning Classes
Flow Fitness South Lake Union
Beautiful, immaculate facilities conveniently located in the heart of South Lake Union
Premium locker room amenities
Complimentary towel service and wi-fi
Dry sauna rooms
Access to innovative, community-based health and fitness events
Complimentary parking in the mornings, evenings and weekends
A full complement of cardio and strength equipment
Personal training in private and small-group settings
A comprehensive group exercise schedule taught by the area's best instructors
Join a Flow Fitness Cycling Class Near Capitol Hill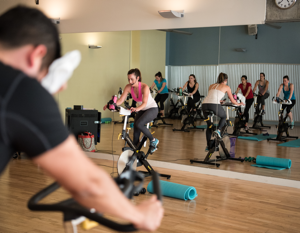 Many people think that indoor cycling is just boring. The reality is that a cycling class at Flow Fitness center is designed to be a fun, HIT (high-intensity training) class that can produce amazing results.
Cycling is an aerobic exercise. The whole point of these classes is to get you moving so that you will burn more calories than you would walking around. Research shows that Capitol Hill residents can expect to burn around 400 calories an hour.
Of course, that is only one advantage of an indoor cycling class. Indoor cycling classes can help you get into shape. They're an excellent way to get healthy and to improve your health, and they're an ideal way to get started in your own cycling journey.
Indoor Cycling Benefits the Mind and Body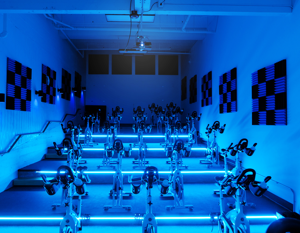 All of our indoor cycling programs have state-of-the-art Schwinn Carbon Blue cycles that provide a smooth and authentic ride. Each bike is additionally enhanced with MPower Echelon consoles that allow you to conveniently track performance.
Capitol Hill members who want to shed fat, improve heart health, or increase muscle endurance should consider our indoor cycling programs. There are several muscle groups that are exercised, toned or targeted in a cycling workout, including those found in your:
Calf
Thigh
Gluts, Buttocks
Arms
Shoulders
Foot
Don't forget about socializing in a class. If you're trying to get friends together, there are classes that encourage you to hang out with other cyclists at the gym. This can be a lot of fun, with or without a partner. You will meet a lot of people in an indoor cycling class.
A Variety of Spinning Classes Available to Capitol Hill Residents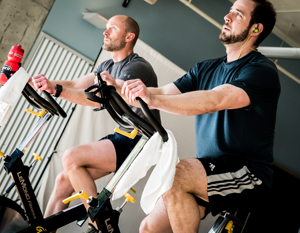 Because the user can control the intensity, our spinning classes near Capitol Hill are suitable for a wide range of levels. Whether you are interested in spinning classes alone or one that is combined resistance training or core-specific exercises, we are confident you will find just what you need to meet your goals.
Here is a brief description of our spinning classes:
Cycle – Energetic 45-minute training ride
Cycle Reset – Powerful 45-minute, easy, moderate, hard
Music Video Cycle – Cycle classes with music videos
Cycle Fusion – Indoor cycling & resistance training
Cycle + Core – Spinning and core strength training
Take advantage of our expert instructors who will challenge you to push your limits while they inspire you to reach for more!
We invite you to schedule a tour of the Flow Fitness facilities near Capitol Hill or call 206-621-7246 for questions about a cycling class.