Indoor Cycling Class Near South Lake Union – Beginner to Advanced Spinning Classes
Flow Fitness South Lake Union
Beautiful, immaculate facilities conveniently located in the heart of South Lake Union
Premium locker room amenities
Complimentary towel service and wi-fi
Dry sauna rooms
Access to innovative, community-based health and fitness events
Complimentary parking in the mornings, evenings and weekends
A full complement of cardio and strength equipment
Personal training in private and small-group settings
A comprehensive group exercise schedule taught by the area's best instructors
Join a Flow Fitness Cycling Class Near South Lake Union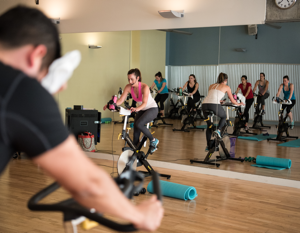 A lot of men and women are under the impression that cycling is rather boring. They have never been to Flow Fitness! All of our spin classes take place in an energic environment with expert instructors. Their focus is to help you push your limits and inspire you to keep going!
Cycling is an aerobic exercise that can produce great results. Along with building strength and endurance, you might be surprised at the number of calories you'll burn during indoor cycling workouts. Research indicates that South Lake Union residents can burn an average of 400 calories per hour.
An indoor cycling class is the perfect fit for individuals in the South Lake Union area who want to:
Get healthier
Stay healthy
Increase strength
Improve endurance
Feel great!
Indoor Cycling Benefits the Mind and Body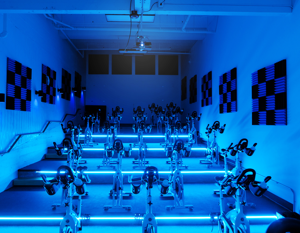 If you want to experience a smooth, sleek and enjoyable ride, you will love our state-of-the-art Schwinn Carbon Blue cycles. They are all equipped with an MPower Echelon Console that easily tracks your performance.
Whether you want to lose weight, increase heart health, or build stronger muscles, indoor cycling is a perfect place to start. Cycling workouts target, exercise, and tone a variety of muscle groups, like those located in your:
Arms
Shoulders
Calves
Thighs
Gluts, Buttocks
Feet
Socializing, healthy competition and fun are some of the side benefits. Get stronger, leave rejuvenated, and enjoy the journey. It just doesn't get better than that!
A Variety of Spinning Classes Available to South Lake Union Residents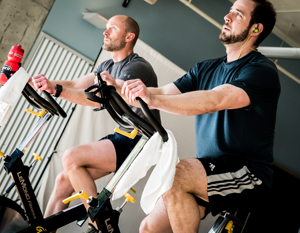 Because the rider controls the intensity, the spinning classes we offer near South Lake Union can accommodate the beginner to the advanced rider. Whether you want basic spinning classes or those that combine cycling with core exercises or resistance training, our indoor cycling programs have you covered.
Here's the short version of our available 45 to 50-minute spinning classes:
Cycle – Energetic, four zones of intensity
Cycle Reset – Powerful three zones, easy, moderate, hard
Music Video Cycle – Spinning classes with music videos
Cycle Fusion – Indoor cycling with resistance training
Cycle + Core – Spinning, endurance & core strength training
If you have been searching for an indoor cycling class near me in South Lake Union, stop searching and call 206-621-7246 to schedule a tour of Flow Fitness. There is so much to do, and so many fitness options available, there's just no excuse for putting off until tomorrow what you can do today!