Indoor Cycling Class Near Westlake – Beginner to Advanced Spinning Classes
Flow Fitness South Lake Union
Beautiful, immaculate facilities conveniently located in the heart of South Lake Union
Premium locker room amenities
Complimentary towel service and wi-fi
Dry sauna rooms
Access to innovative, community-based health and fitness events
Complimentary parking in the mornings, evenings and weekends
A full complement of cardio and strength equipment
Personal training in private and small-group settings
A comprehensive group exercise schedule taught by the area's best instructors
Join a Flow Fitness Cycling Class Near Westlake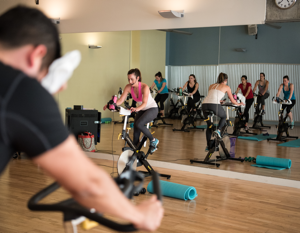 If you love bike riding but often find that weather conditions or too much traffic stop you from your favorite exercise activity, a great option is to join a cycling class at the Flow Fitness center near Westlake.
Our indoor cycling classes include some of the best equipment on the market – Schwinn Carbon Blue cycles. Each cycle is equipped with an MPower Echelon console that makes tracking your performance a breeze.
Every cycling class is expertly led by instructors who will push you to the max while inspiring you to return for more. Our indoor cycling programs combine fun, a high-energy environment, and high-intensity interval training that produces awesome results.
Indoor Cycling Benefits the Mind and Body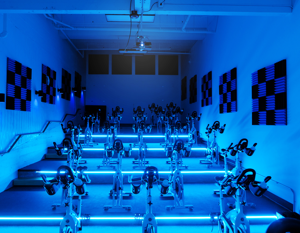 An indoor cycling workout helps build muscle strength as well as endurance. Because different types of terrains are simulated causing you to raise and lower, there are various muscles affected. While the main focus is placed on your legs and glutes, your arms and core muscles are also engaged.
Outdoor or indoor cycling is a great aerobic exercise that will definitely get your heart pumping! This form of exercise improves cardiovascular endurance and increases heart health. And, because cycling is considered a low-impact workout, it's ideal for Westlake residents who are recovering after an orthopedic injury.
Those are some of the top physical benefits of our indoor cycling classes, but there's more:
Ligaments, bones & tendons around muscles are strengthened
Does not jar or shake the hip, ankle joints or knees
An hour of indoor cycling can burn 400-600 calories
If that's not enough to convince you how great an indoor cycling class is, Westlake residents can also expect to experience a release of endorphins. So, while you're feeling better physically, you just might feel less stressed and happier too!
A Variety of Spinning Classes Available to Westlake Residents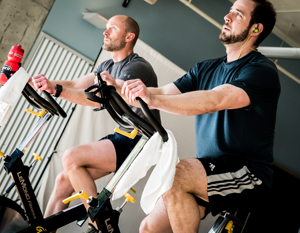 One of the nice things about our spinning classes near Westlake is that is rider has the ability to control the intensity. This means that every ride can be adjusted to all different levels from the first-time rider to the advanced rider.
Spinning classes can be your main form of activity or to complement your existing fitness routine. Here's a summary of the spinning classes we offer:
Cycle – high-intensity interval training
Cycle Reset – easy, moderate, and hard intensity zones
Music Video Cycle – spinning class with music videos
Cycle Fusion – indoor cycling combined with resistance training
Cycle + Core – spinning and core-specific exercise
We encourage you to call us direct at 206-621-7246 for questions about our spinning classes or to set up a tour of our Flow Fitness facilities near Westlake.