Personal Training Near Belltown – Plus Small Group & Team Training!
Flow Fitness South Lake Union
Beautiful, immaculate facilities conveniently located in the heart of South Lake Union
Premium locker room amenities
Complimentary towel service and wi-fi
Dry sauna rooms
Access to innovative, community-based health and fitness events
Complimentary parking in the mornings, evenings and weekends
A full complement of cardio and strength equipment
Personal training in private and small-group settings
A comprehensive group exercise schedule taught by the area's best instructors
Personal Training Memberships Offer Amazing Value!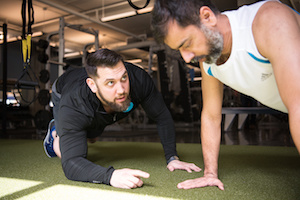 The Flow Fitness personal training memberships include everything that will help you achieve your fitness goals safely and efficiently.
There are a lot of choices when it comes to personal training and you've no doubt found a lot of them if you've been searching online for "personal training near me in Belltown" and are probably overwhelmed with options.
Flow Fitness personal training memberships offer the best value in the area and include:
Personal training
Small group training
Studio classes such as Yoga, Barre, Team Training, Cycle and more
Full strength and conditioning gym access
You probably already have a good grasp of the benefits of exercising, but with personal training, you will get better, faster results with:
Increased accountability
Learning proper form and technique down
Personalized workout plan
Creating a foundation of good routines and habits
All of our personal training memberships include a free 50-minute assessment to understand your unique goals and characteristics. An assessment includes a:
Fit3D body scan
Functional movement screen
Review of health and/or injury history, goals & objectives
Development of a personal fitness plan
Contact us soon to begin or enhance your personal fitness journey towards a better, healthier you! Call us at (206) 621-7246 or use our website to enroll or set up a tour.
Small Group and Team Training Options Near Belltown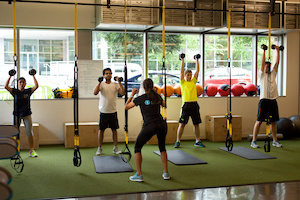 Working out on your own can sometimes become boring and uninspiring. Working out with a personal trainer in a small group or team session can drastically improve your motivation. And with exercise, motivation usually leads to better results.
Small Group Training called "Strength Camp" is structured just like personal training. By training in a group environment, training is more cost-effective and can provide more "energy" through social engagement.
The benefits of Small Group Training are:
Highly personalized (limit of 4 participants)
High "energy" environment
Cost-effective
Social encouragement
Belltown residents and employees will like our focus on not only strength but also agility, mobility and balance all in one class!
Why Should Belltown Residents Choose Us for Training?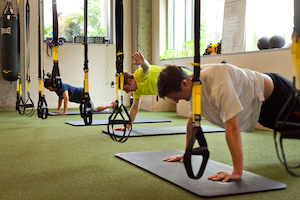 Our experienced personal trainers are not only highly knowledgeable but passionate about their clients. Our training approach focuses on functional fitness and helping you can be the best you can be. We also offer one of the top training facilities in Seattle. Our personal trainers will leverage their experience and knowledge to empower you to improve your own health for life. We help you build good habits and routines and teach proper form so that you can live a lifetime of health.
Personal training memberships also include the below and are the perfect way to complement your personal training sessions and get you the best and quickest results.
Small group training
Studio classes such as Yoga, Barre, Team Training, Cycle and more
Full strength and conditioning gym access
Start today with a personal training program at Flow Fitness that will get you moving! Belltown residents can call us or use the form on our website to enroll or set up a time for a tour.