Personal Training Near Fremont – Plus Small Group & Team Training!
Beautiful, immaculate facilities conveniently located in the heart of Fremont
Premium locker room amenities
Complimentary towel service and wi-fi
Access to yoga, barre, cycle and team training in four boutique fitness studios
We offer complimentary member parking
Strength and conditioning gym
Private and small group training
A comprehensive class schedule
Personal Training Memberships Offer Amazing Value!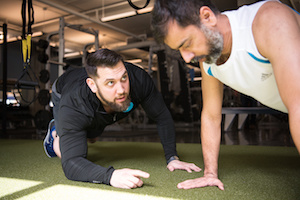 Kickstart your journey to health with personal training. We have some of the best personal trainers serving Fremont to help you achieve your goals.
Get started today with one of our personal training memberships. You'll be amazed at the value that you'll get from just one membership!
Our personal training memberships generally offer:
Woman or man personal trainer
Team training and semi-private training
Unlimited studio classes
Full gym access
We can help you set new goals in the new year with the help of a personal trainer and a 50-minute assessment that includes:
Fit3D body scan
Functional movement screen
Health/injury history, goals and objectives review
Personal fitness plan set up
Call us today at (206) 268-0816 for any questions on our personal training programs or use the form on our website to schedule a tour now!
Small Group and Team Training Options Available in Fremont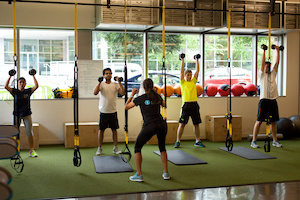 You might wonder why you should use a personal trainer or even why team training or small group training is good for you.
For most of us, it comes down to motivation. Keeping yourself motivated is one of the hardest things to do. Study after study shows that having someone (or a group of people) that you feel accountable to will only improve your results and your ability to continue with the plan. Thereby reaching your results faster than you might if you were to go it alone.
Here are just a few of the many benefits of team training and small group training:
Build good routines and habits
Get the guidance and support to build self-confidence
Be social – encourage and help each other along
Accountability from a trainer and your classmates
Learn proper form and technique
Do you live or work in the Fremont neighborhood? Join one of our team training classes today and see how a group-motivated training class, with a careful structure created by a personal trainer, will do for your fitness and health.
Classes include a dynamic warm-up that improves mobility and flexibility, following by high-intensity interval training (HIIT) and then a metabolic finisher focusing on fat burn.
Why not start today? You can sign up on our website or give us a call at (206) 268-0816 if you would like more information.
Why Should Fremont Residents Choose Us for Training?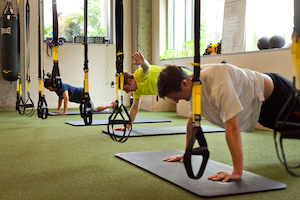 If you live or work in the Fremont area, then you can stop searching for "small group training near me" and start working out with us instead!
Here are just a few reasons members choose us as their "group training near me" option:
Results-driven classes
Amazing value in our personal training memberships
Focus on improving your mobility, strength & conditioning
Energy-filled trainers, members, and classes to keep you motivated
What are you waiting for? Set up a time to take a tour of our Flow Fitness facility in Fremont.