Personal Training Near Queen Anne – Plus Small Group & Team Training!
Beautiful, immaculate facilities conveniently located in the heart of Fremont
Premium locker room amenities
Complimentary towel service and wi-fi
Access to yoga, barre, cycle and team training in four boutique fitness studios
We offer complimentary member parking
Strength and conditioning gym
Private and small group training
A comprehensive class schedule
Personal Training Memberships Offer Amazing Value!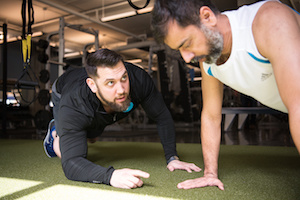 Looking for a "private personal trainer near me" on search engines? Asking around with friends to find a "small group training near me"? Well, look no further than Flow Fitness because we offer all of those things! We're not far from Queen Anne for residents or employees.
Why should you hire a personal trainer? There are a ton of reasons, but we'd like to focus on a few that we think are pretty important to your fitness journey:
Keeps you accountable
Learn proper form and technique from a professional
Develop a customized workout plan for you
Build a foundation of good habits and routines
You probably can't imagine us doing your job, right? We'd try hard but it probably wouldn't be pretty, and we would probably be pretty bad at it. That's why you should hire a professional personal trainer.
Go to our website or schedule a tour to learn more about the training packages that we offer and how you can get started. Perfect for those that live and work in the Queen Anne neighborhood.
Small Group and Team Training Options Available Near Queen Anne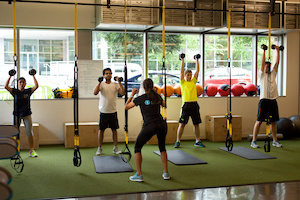 Motivation is a key to keeping a fitness plan (or any plan really) going long term. Fitness and health are things you should be focused on consistently for the rest of your life. For those reasons, a lot of people find small group and team training classes appealing.
Our team training and small group classes have the following benefits:
More accountability and motivation
Learn proper form and technique
Consistent workout routine
Get programming from certified trainers to maximize results
Encouragement from trainers and members
If you work in or you call Queen Anne your home, Flow Fitness is just around the corner and you'll love our personal training memberships and the value that they provide including the team training classes! Give us a call at (206) 268-0816 or take a look at our website for options, times and most importantly how to get started.
Why Should Queen Anne Residents Choose Us for Training?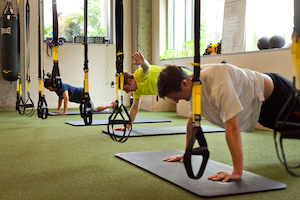 Our personal trainers are experienced and knowledgeable. Our gym has the highest quality equipment and facilities. Combined it creates a winning combination to be the right place for you to take your fitness and health to the next level. You'll also benefit from access to workout on your own.
Personal training memberships also include:
Small group personal training
Studio classes such as Bodypump, Yoga, Barre, HIIT, Cycle and more
Complete gym access
Women and men trainers available
Take a look at our website and enroll, book a tour or give us a call. The important thing is that you take the first step!