Personal Training Near South Lake Union – Plus Small Group & Team Training!
Flow Fitness South Lake Union
Beautiful, immaculate facilities conveniently located in the heart of South Lake Union
Premium locker room amenities
Complimentary towel service and wi-fi
Dry sauna rooms
Access to innovative, community-based health and fitness events
Complimentary parking in the mornings, evenings and weekends
A full complement of cardio and strength equipment
Personal training in private and small-group settings
A comprehensive group exercise schedule taught by the area's best instructors
Personal Training Memberships Offer Amazing Value!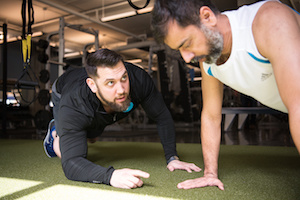 Whether you are looking to improve your health, or work out in a specific fitness activity, we can match you with a "private personal trainer near me" to customize your workout sessions consistent with your fitness goals.
We offer personal training memberships or packages at an amazing value which include:
A personal trainer
Semi-personal training
Team training fitness
Small group training
Unlimited classes
Gym access
We start with helping you set goals with the help of an experienced personal trainer during a 50-minute assessment which includes:
3D body analysis
Functional movement screen
Review of health/injury history, goals and objectives
Creation of a personalized fitness plan
If you are ready to begin work with a personal trainer serving the South Lake Union area that will partner with you to reach new levels and achieve great results, send an email or schedule a tour right here on this site!
Small Group and Team Training Options Near South Lake Union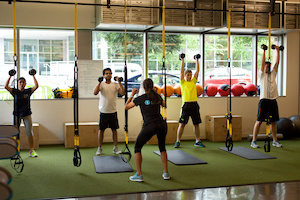 Why use a trainer for team training fitness or small group training?
It's true that most of us are more highly motivated, and work harder when working with a personal trainer or a professional trainer for team training fitness as opposed to working out on our own.
While the benefits will become very apparent as you begin your sessions, these are a few benefits of becoming part of our team training program by a professional trainer serving South Lake Union:
Greater accountability and motivation
Learning proper form and techniques to reach new heights
Reducing the possible risk of injury
Establishing good habits and consistent routines
Gaining self-confidence and empowerment
Great social interaction and encouragement
Our team training program serving the South Lake Union community provides a highly motivated workout that is carefully structured by a professional trainer, including a warm-up, a balanced workout, and a fat-burning finisher.
We encourage you to review our membership options and sign up online for team training or stop at the front desk to sign up!
Why Choose Us for Training Near South Lake Union?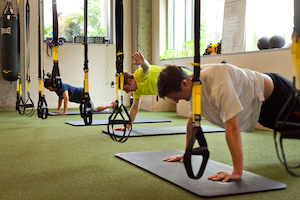 We offer a small group training program with a professional coach serving South Lake Union, built on achieving optimal fitness, corrected form, and individual focus with the added benefit of motivation from your peers and coach.
These are a few reasons to choose us for "small group training near me":
A focus on improving mobility, strength, and conditioning
We provide an energy-filled atmosphere for motivation
Our small group training program is results-driven and goal-oriented
Training memberships that offer an amazing value
Contact us by email on this site or stop by Flow Fitness to take advantage of our small group training membership by a professional trainer serving the South Lake Union area. Your body is the best investment you can make!