Personal Training Near Westlake – Plus Small Group & Team Training!
Flow Fitness South Lake Union
Beautiful, immaculate facilities conveniently located in the heart of South Lake Union
Premium locker room amenities
Complimentary towel service and wi-fi
Dry sauna rooms
Access to innovative, community-based health and fitness events
Complimentary parking in the mornings, evenings and weekends
A full complement of cardio and strength equipment
Personal training in private and small-group settings
A comprehensive group exercise schedule taught by the area's best instructors
Personal Training Memberships Offer Amazing Value!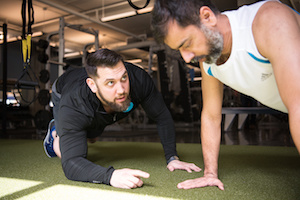 Looking to get fit or improve your overall health? Consider one of our personal training memberships to get the guidance and support you need to be your best self.
Have you been searching for a "private personal trainer near me" in the Westlake area? You've found one! We offer women personal trainers as well as men. We will customize your workout time so that you get the best, most efficient results you are looking for. Hiring a professional can dramatically improve your results.
You already know some of the benefits of exercising (that's why you're on this page!) but what are some of the benefits of hiring a personal trainer. Here are just a few:
Accountability
Learn proper form & exercise technique
Get a customized workout plan
Build good routines & habits
One way to start is with one of our 50-minute assessments. These are great to get a baseline of where you are today and help you to set future goals. An assessment includes:
Fit3D body scan
Functional movement screen
Review of health and/or injury history, goals & objectives
Creation of a personalized fitness plan
Schedule a tour on our website or sign up for our Power 30 Day Trial to get started with one of our personal training memberships which are perfect for Westlake area employees or residents!
Small Group and Team Training Options Near Westlake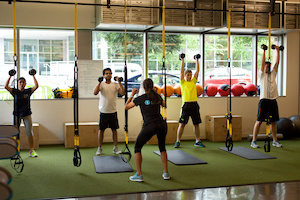 We have great options for small group and even team training available to those that want to improve their fitness with others!
When working out on our own, we can often become uninterested or fatigue easily. For most people, working out with a personal trainer in a small group class or a team can drastically improve your motivation. And with exercise, motivation is a big piece of the puzzle.
Some of the benefits that our small group and team training options have are:
Programming that focuses on both strength and cardio
Higher levels of accountability & motivation
Establishing good form and technique
Social interaction and encouragement
For Westlake residents and employees, our team conditioning can be a great option. HIIT-style training will keep your heart rate up with periods of rest and moderate periods. You'll increase your strength, agility, and mobility all in the same class!
Why Should Belltown Residents Choose Us for Training?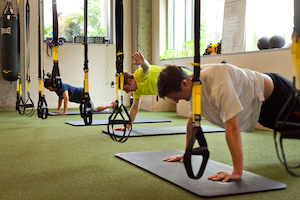 Our personal trainers have the knowledge and experience to help you achieve your fitness goals. Our personal trainers will instill good habits and routines to make sure that they are all focused on providing you the strongest benefit possible.
Our personal training memberships are an amazing value and include:
Personal training (women and men trainers available)
Classes such as Cycle, BodyCombat, Yoga, Barre and more
Gym access
Regular Fit3D scans to measure progress and results
Take the first step towards your health and fitness goals this year by contacting us to get set up with a personal training membership. Call us at (206) 621-7246 or use our online form to schedule a tour. We're not far from Westlake!