Yoga Downtown Seattle WA | Vinyasa Yoga Downtown Seattle | Yoga Classes
Flow Fitness South Lake Union
Beautiful, immaculate facilities conveniently located in the heart of South Lake Union
Premium locker room amenities
Complimentary towel service and wi-fi
Dry sauna rooms
Access to innovative, community-based health and fitness events
Complimentary parking in the mornings, evenings and weekends
A full complement of cardio and strength equipment
Personal training in private and small-group settings
A comprehensive group exercise schedule taught by the area's best instructors
Yoga for Flexibility, Strength and Body Awareness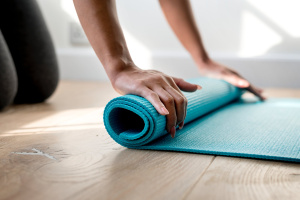 Yoga has been around for centuries and is still popular today due to the amazing amount of physical and mental benefits it provides. While we all take a different approach to achieving overall fitness, it's hard to beat an exercise that can synchronize and benefit the body, mind, and soul the way that yoga can.
Flow Fitness center near the Downtown Seattle area offers yoga classes for all ages and skill levels. Yoga, when practiced regularly, can build not only physical strength and mobility, but can also make you more mentally flexible with a higher level of body awareness. More precisely, Downtown Seattle members can look forward to other wonderful benefits of practicing, like:
Lowering blood pressure & blood sugar levels
Reducing stress, improving relaxation
Reduce insomnia and other sleep-related problems
More inner peace and a calm mind
Our yoga classes near the Downtown Seattle area have a variety of styles, tempos and expertly trained instructors that will help you find your flow!
Vinyasa Yoga Can Be Modified for Any Level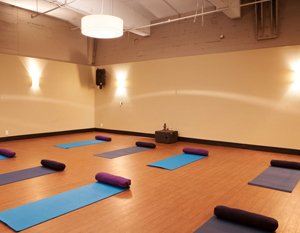 Vinyasa yoga can be easily modified for any level of ability. Beginning Vinyasa yoga classes for Downtown Seattle residents will focus on combining movement with breathing. While other classes are dedicated to a variety of goals the practitioner would like to achieve.
For instance, some of our Vinyasa yoga classes focus on relaxation and stress reduction, and others assist in a quicker workout recovery time or breaking a sweat in a Vinyasa flow set to upbeat music!
A fundamental belief we have is regardless of your existing fitness level, your age, or your current fitness regime, one of the smartest things you can do that provides amazing benefits to both your body and your mind, is yoga.
If you live in the Downtown Seattle area and want to get started or continue practicing, check out the Vinyasa yoga classes at Flow Fitness. You can schedule a tour of our facilities by calling 206-621-7246.
Yoga Classes – Yoga Flow, Flow and Restore, Soulful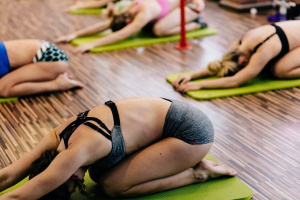 Downtown Seattle members appreciate the fact that all of the yoga classes are held in a private studio. Our teachers incorporate a variety of well-known and well-practiced yoga methods. Listed below are the classes we offer with a brief description:
Yoga Flow: Mastering the basics
Power Flow: Vinyasa flow set to upbeat music
Release and Restore: Faster recovery from workouts
Soulful Flow: Energize the body, renew the spirit
Restorative: Melt away everyday stress
Deep Stretch / Yin Yoga: Flexibility & mobility, calms the mind
If you seek more balance in your life, yoga classes near Downtown Seattle is a great way to start. Got questions? Just give us a call at 206-621-7246.