Yoga Lower Queen Anne WA | Vinyasa Yoga Lower Queen Anne | Yoga Classes
Flow Fitness South Lake Union
Beautiful, immaculate facilities conveniently located in the heart of South Lake Union
Premium locker room amenities
Complimentary towel service and wi-fi
Dry sauna rooms
Access to innovative, community-based health and fitness events
Complimentary parking in the mornings, evenings and weekends
A full complement of cardio and strength equipment
Personal training in private and small-group settings
A comprehensive group exercise schedule taught by the area's best instructors
Yoga for Flexibility, Strength and Body Awareness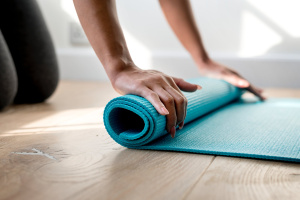 All of our yoga classes are designed to help you meet your goals. At Flow Fitness near Lower Queen Anne, we welcome beginners to seasoned practitioners. Whether you are seeking personal development (me time) or want to complement an ongoing training program, the benefits derived from yoga will help you balance your mind and body.
Yoga is well known for its stress relief. Lower Queen Anne residents dealing with stress know that it can affect many facets of everyday life. We can help you quiet your mind with mindful movements and breath control to bring you more mental clarity and a welcome sense of calm.
Studies also show that there are also many physical benefits:
Improve muscle strength, endurance & flexibility
Lowers blood pressure
Can lower blood sugar levels
Treat insomnia
Reduce arthritis symptoms
Lower Queen Anne residents who would like more information on the benefits of yoga are encouraged to give us a call at 206-621-7246.
Vinyasa Yoga Can Be Modified for Any Level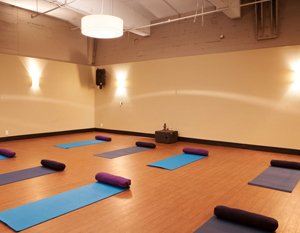 Regardless of your fitness level or age or what you are or are not currently training for, one of the top things you can do for your mind and body is yoga.
Our vinyasa yoga classes combine different tempos and styles to provide Lower Queen Anne members the ability to find the perfect fit. The yoga flow class can be modified for all levels and will help you master the basics in synchronizing your breath with movement.
From on deep relaxation with restorative yoga classes to power flow vinyasa yoga sets to upbeat music, we are confident that Lower Queen Anne residents will find a good fit! Here are some of the vinyasa classes we offer Lower Queen Anne members:
Yoga Flow
Power Flow
Restorative Yoga
Deep Stretch / Yin Yoga
Yoga Classes – Yoga Flow, Flow and Restore, Soulful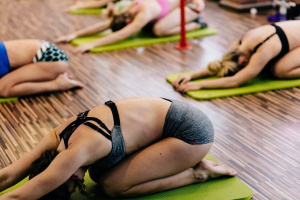 All classes take place in an individual studio. Our experienced teachers incorporate a blend of well recognized and practiced yoga methods to assist you in finding your flow to accomplish your goals.
Flow Fitness near Lower Queen Anne caters to each and every member. With a large variety of training and fitness classes, expert teachers, trainers and instructors, you will find everything you need to stay on the track for a healthier and happier lifestyle. We even throw in the extras!
Dry saunas
Complimentary towel service & shower facilities
Free parking 7 days a week
Keyless locks and premium locker room amenities
Free Wi-Fi on site
Join a community that motivates with encouragement and celebrates accomplishments. Give us a call today to see how we can help you reach your physical and emotional goals. 206-621-7246