Yoga South Lake Union WA | Vinyasa Yoga South Lake Union | Yoga Classes
Flow Fitness South Lake Union
Beautiful, immaculate facilities conveniently located in the heart of South Lake Union
Premium locker room amenities
Complimentary towel service and wi-fi
Dry sauna rooms
Access to innovative, community-based health and fitness events
Complimentary parking in the mornings, evenings and weekends
A full complement of cardio and strength equipment
Personal training in private and small-group settings
A comprehensive group exercise schedule taught by the area's best instructors
Yoga for Flexibility, Strength and Body Awareness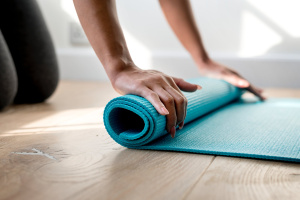 There are a lot of different things people do to stay fit. However, there's no better exercise to synchronize the mind, body and soul as yoga does. Yoga takes a holistic approach and natural body tendencies towards self-healing and overall health. Practicing yoga on a regular basis builds physical strength in addition to mental flexibility and increased body awareness.
There are other benefits of yoga that can make a big difference in your everyday life, like:
Lowering your blood pressure
Reduce sleep-related issues like insomnia
Can reduce arthritis pain & symptoms
May lower blood sugar levels
If you are trying to find the best yoga classes near me in South Lake Union, Flow Fitness is the place to go!
Vinyasa Yoga Can Be Modified for Any Level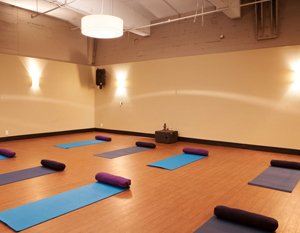 In our Vinyasa yoga studio in South Lake Union, our highly trained instructors will teach you how to combine breath with movement to attain a mind-body balance.
The advantage of Vinyasa yoga is that it is easy to modify for different levels of ability. We have a strong belief that regardless of your age, fitness level, or other exercise and training programs, one of the best things you can do that provides benefits to both your body and mind is yoga! All of our South Lake Union classes are designed to meet the goals of our customers. Be it stress reduction, faster recovery time after workouts, or renewing and energizing the spirit, we have the right Vinyasa yoga class for you!
Whether you're looking for a Vinyasa yoga class for beginners, or you are a seasoned practitioner, come to Flow Fitness in South Lake Union.
Yoga Classes – Yoga Flow, Flow and Restore, Soulful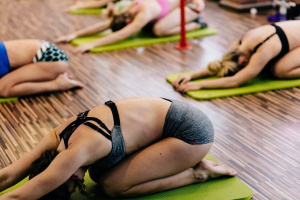 All of our yoga classes in South Lake Union take place in a separate studio. And each class incorporates a blend of well-practiced and well-known methods. Here's a brief description of our yoga classes:
Yoga Flow – Master the basics
Power Flow – Set to upbeat music
Release and Restore – Recover from workouts faster
Soulful Flow – Energize the body and spirit
Restorative Yoga – Deep relaxation to reduce stress
Deep Stretch / Yin Yoga – Flexibility and mind-calming
In addition to these yoga classes, other benefits South Lake Union members will receive include free parking, shower facilities, and complimentary towel service, premium lockers with keyless locks, dry saunas and even free wi-fi!
Make the move today to get started on a healthier and happier lifestyle. Come to our South Lake Union health club! If you have questions or would like to schedule a tour of our facilities, just give us a call at 206-621-7246.