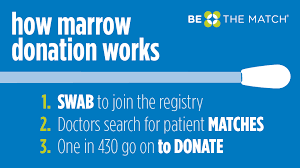 YOU can be the cure for cancer.
There are 70 diseases that can be CURED with a marrow transplant, but only 30% of patients find a match in their family.  There are 14,000 people searching Be The Match, the National Marrow Registry for an unrelated donor.  If you are the match, you are the cure.
Join us August 8th from 5-7pm to register to be a Bone Marrow Donor in honor of our member Rebecca Austin and her mother, who recently passed away from Leukemia.  Save your spot here.
Rebecca came to Seattle to help her mom through her treatment in the fall of 2016. During the past several months Rebecca was with her through it all while her husband and two sons held down the 'fort' back home in Port Orchard, WA. Following over 100 platelet and blood transfusions, at least 13 different hospitalizations, and well over a dozen bone marrow aspirations, her mom's fight with Leukemia ended peacefully with Rebecca by her side.
During this time of sacrifice, Rebecca found solace here at Flow. She used her workouts as her daily respite from the hospital appointments, and brightened the gym with her shining energy and enthusiasm for all things fitness. Her resolve to improve her physical well-being amidst her mother's degrading health issues is another dog in her fight against disease. Another way she shows her commitment is by being on the Bone Marrow Donor registry. Every person who needs a healthy donor's blood-forming cells will need an exact match—so, the more diversity and numbers on the registry, the better chance for successful blood transfusions. Being on the registry takes no time or money at all, and you could directly save someone's life.
Help us participate in this necessary cause and celebrate Rebecca's contribution to her mom and the community here at Flow. Be The Match will be here August 8th from 5-7pm.
Have questions?  Check out the FAQ page.
Join us at Flow for the drive – reserve your spot here.