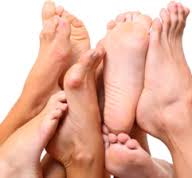 Healthy Foot Workshop  ~  Thursday, February 11th at 6pm
Learn how to reawaken your feet and legs for a healthier you! When your feet hurt, it affects your whole body; your foot health will determine how well you age. In this class, you'll learn how to revitalize your feet through stretching, joint mobilization, self-massage, and self-care.
When your feet feel good, you feel good. Step in – your feet will thank you!
A free 45 minute interactive workshop with Q & A for Flow Members
Talk Given By,
Laura Houston
Certified Healthy Foot Practitioner™ & Master ChiRunning/Walking Instructor
Please register at the Front Desk