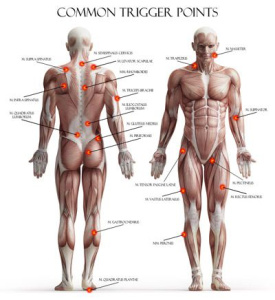 Relieve muscle tension and joint pain with your hands!
Trigger point therapy is a form of massage that holds pressure over taut bands or knots in the muscle for 15-20 seconds to reduce local constriction.

In this class, you will learn how to feel for and identify trigger points on a partner. Given some coaching, you will develop the right amount of pressure and technique to release trigger points. This class will be informative and fun!
Teach your husband, wife, partner, or best friend how to relieve your tension- Win Win!
Once you've released some tension after work,
enjoy the rest of your evening, pain free!
Please register at the Front Desk
** and bring a friend! **
A free 45 minute interactive workshop with Q & A for Flow Members by,
Dr. Traci Grandfield, D.C.
Dr. Traci Grandfield, DC completed her undergraduate studies at the University of Kansas with honors in 2004. She graduated from Life Chiropractic College West as Salutatorian of her class in 2008 with her doctorate in Chiropractic. Dr. Grandfield received extended training in a specialized Chiropractic technique called NUCCA (National Upper Cervical Chiropractic Association). She is a certified fitness instructor and teaches a weekly core strength class. She enjoys working with athletic spines, baby spines, mama spines, and anyone that is driven for a better quality of life. She specializes in NUCCA and extremity adjustments to shoulders, wrists, hips, ankles, etc.  Conditions that especially respond to NUCCA care are migraines & headaches, fibromyalgia, chronic fatigue, chronic pain, numbness and tingling, neck and shoulder tension.